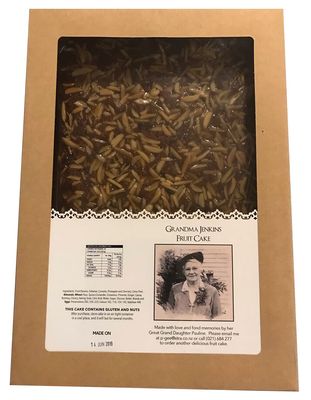 Large Fruit Cake - All Varieties (Made to Order)
Grandma Jenkins
Available by order only in Original Recipe, Gluten Free or Vegan Gluten Free. A large fruit cake that is perfect for a function, gathering or celebration.
A delicious fruit cake handmade with premium ingredients. Topped with slivered almonds and glazed and packaged in a manner that exudes old fashioned charm.
Price $120.00
Cake Dimensions: 310mm x 210mm x 55mm
(The same size as an A4 ream of photocopy paper)
Weight: 2.8 kilograms (approximately)
Servings: 100-120 (approximately)

MADE TO ORDER. PLEASE CONTACT ME TO CHECK AVAILABILITY OR TO PLACE AN ORDER.

SKU: 10006